Tender Care Oriflame product review .  Note – Products are not tested on animals .
Tender Care Protecting balm by Oriflame is one of the best selling products in the Cosmetics world. Its natural ingredients make it a healthy cream to use . It is made of the BEE WAX . THE VEGETABLE OILS . Isn't it great!! . Your skin care uses all the nature best sorted out ingredients for you. Lets see the ingredients and their individual benefits on the skin . How Tender Care makes it a perfect to use balm.
Oriflame Tender Care ,Ideal to use for  – Lips , Dry skin . You may use to any external body skin.
My skin gets extremely dry around elbows, feet, cracked heels and most importantly rough lips! When I first got Oriflame Tender Care Balm, I thought it's a lip balm in a pot but it is not just that, it is a versatile product – it can be used on face, cuticles, elbows, feet etc – anywhere you have dry skin you can use it!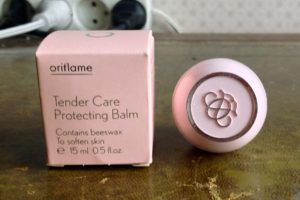 Oriflame Tender Care Balm comes in the cutest oval shaped pot packaging, though I love the packaging but I wish the mouth was a little bit broader for convenient usage. I mostly use this balm on my elbows and feet, it can be used on lips too but due to hygienic reasons I avoid using it on lips. For lips, I got the Tender Care Lip Balm. It comes in a liptick style packaging and it is very easy to use. It can be carried around easily and since it has no color/tint, it is perfect for using with matte lipsticks.
Oriflame Tender Care Balm is a very light; smooth textured based which gets absorbed very quickly. It also does not leave behind any oily or greasy feeling behind. It works wonderfully on dry & cracked feet, I won't say it completely gets rid of cracked heels but with regular usage there is a difference. Since, it is a cute & small pot; it is very easy to carry around too. Whenever I feel my hands dry, I reach out for this in the purse and my hands feel moisturized immediately.
Check out the Oriflame Pink Fashion Glamour Bag . One of the Bestseller product.
Tender care Oriflame Balm : The KEY Ingredients and the benefits :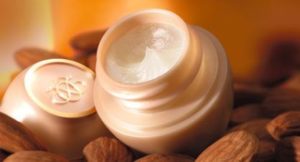 The Oriflame Tender Care Balm has chemical compounds mixed with the natural boosters . We will talk about the key ingredients used in the Oriflame Tender care balm.
BEE WAX in Oriflame Tender Care :

Tender Care balm by Oriflame uses the BEE WAX as a main portion in the balm . The

protect dry skin and lips

BEE WAX has medicinal and also works as a skin Energiser . The BEE wax in the tender care balm , makes the skin softer . I offered the tender care balm to my friends for a trial . They have been using the Tender care balm since a month now .
Their feedback is ," The product is good to use , and if they get dry skin , the tender care balm makes it softer and healthier . It makes you feel comfortable with the skin" .

VEGETABLE OILS in Oriflame Tender Care :

The Tender Care balm uses the vegetable oils . The vegetable natural oils soothes the dry skin , and provides the healthy moisture / essential oils to the skin pores . The natural oils work effectively because , their healthy compounds does not leave the skin pores dirty . This does not allow the formation of pimples / acne / blackheads etc. The main benefits of using healthy ingredients is that it suits almost every skin type . No need to worry.

Petrolatum in Oriflame Tender Care balm:

Petroleum Jelly helps the skin's outer layer to recover from damage, and helps in reducing inflammation.Provides relief to injured or exposed skin and protects in from irritating stimuli.

Caprylic/Capric Trygleceride in Oriflame Tender Care Balm:

Is derived from coconut oil and glycerin, helps prevent loss of moisture from the skin and contains fatty acids that the skin and use to repair itself.

Cera Albain Oriflame Tender Care balm:


Or Beeswax is an effective healing agent and helps hold in moisture.

Tocopherol Acetate in Oriflame Tender Care balm:

Is a type of Vitamin E and is good for the skin.
Oriflame Tender Care Pros and Cons :
Oriflame Tender Care Lip Balm is very hygienic to use. The texture again is light but not as smooth as the Balm in the pot. This one feels a little waxy and greasy on the lips. But it is effective in keeping the lips hydrated and flaky skin free. It works best with matte lipsticks which can be super drying in nature. This lip balm leaves a light sheen on the lips and it is not tinted.
Only thing I didn't like about these lip balms is it contains parabens and other chemicals which is a case with most lip balms available in the market.
Pros:
Cute & easy to use packaging .
Easy to carry around.
Light on the skin.
Does not leave greasy feeling behind.
Keeps the skin moisturized.
It's a multipurpose balm so you can use wherever you are facing dryness like elbow, knee, lips, and hands.
Absorbs quickly.
Has beeswax which provides moisture.
Makes skin soft and smooth.
 Odorless.
Does not leaves a whitish cast on lips.
Travel friendly packaging.
Cons:
Contains parabens.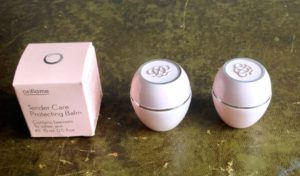 The balm is tasteless and does not have any odor. Whenever I use this balm it reminds me of Vaseline . It is quite similar to that but it is not greasy like Vaseline. I use this balm for my cuticles and for my lips. As the tub is really small so I don't think so that I can use it on larger areas like legs and hands.
Packaging:
Oriflame tender care balm packaging is really cute. Tender Care balm comes in a tiny little round shape tub which is cute as well as travel friendly. As the size of the tub is really small so you can carry this balm in your handbag easily. But yeah smaller size comes with an issue of taking out product from the tub by digging your finger inside which is so unhygienic.
Final Words- Oriflame tender care protecting balm is aptly said as the multipurpose prodyct which has healed ny dry lips, cuticles and made my knuckles soft apart from that it's packaing and price makes it a thumbs up product .
 Oriflame tender care protecting balm also available in Black Current: